February 7, 2018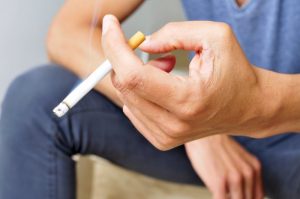 Doctors and dentists alike understand that it can be difficult to quit using tobacco. Whether you're smoking cigarettes, chewing tobacco, or smoking hookah at a bar, the stuff is addictive. Besides giving you chronic bad breath and increasing your chances of gum disease and cancer, your implant dentist in Arlington says it can lower your eligibility for dental implants. If you smoke after receiving them, it even makes them more likely to fail!
Once you read this recent research, you just might think twice the next time you buy a pack or two.
The Research Behind Dental Implants and Smoking
Based on research coming from the University of Murcia located in Spain, dental implants are at risk of failing if patients smoke while they're still healing. Researchers at the university studied 66 patients who received 165 implants. Half of the patients smoked regularly while the other half never smoked or used any form of tobacco over a period of 5 years.
Keep in mind that dental implants are made of titanium as well as other materials that organically integrate into the body, in this case the jawbone. They also require regular oral care to stay in proper condition. This includes brushing twice a day, flossing, and seeing the dentist every six months for cleanings and examinations.
The Conclusion
After the five-year observation period, researchers came back with conclusive evidence that chronic smoking caused dental implants to fail more often. The failure rate for patients who didn't smoke was tiny, about 1.4 percent. Compared to smokers, the rate landed at 15.8 percent, over 15 times more often. For reference, the average success rate for dental implants is 95 percent over a ten-year period.
Why Tobacco Puts You at Risk
According to researcher Dr. Arturo Sanchez Perez, "People who smoke are at greater risk of infection following surgery and may heal more slowly. When an implant is placed in a smoker, it is more likely to fail."
Like many surgeries, patients need to be in good health to avoid complications. This includes having healthy gums, having adequate bone to support an implant, and committing to a strict oral care regimen. While your dentist in Arlington can evaluate if you have enough bone to support a dental implant, they can't constantly monitor your daily habits. If you currently smoke, your implant dentist in Arlington will be able to notice and will most likely tell you to discontinue all tobacco use if you intend on getting them.
If you want to pursue dental implants but have trouble quitting your use of tobacco, tell your dentist or general practitioner. They're used to guiding patients in the right direction and offering what's worked best for other patients. Even if you aren't getting dental implants, it's worth considering for your oral and overall health.
Want to learn more about the process of getting dental implants? Schedule an appointment with your dentist in Arlington to learn your eligibility.
About the Author
Dr. Stephen Wardlaw earned his Doctor of Dental Surgery degree from Baylor College of Dentistry in 1998. He's been practicing dentistry ever since and has become a member of many dental organizations, including the ADA, the American Association of Cosmetic Dentistry, the Dallas County Dental Society, and many more. To learn more about his dental implant treatments and practice, you can visit his website or contact him directly at (817) 572-5115.
Comments Off on Your Implant Dentist in Arlington: Tobacco Can Harm Dental Implants
No Comments
No comments yet.
RSS feed for comments on this post.
Sorry, the comment form is closed at this time.