All-Ceramic Restorations in Arlington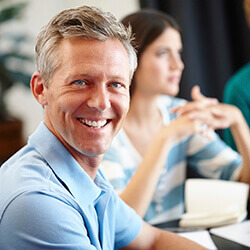 When rebuilding lost or damaged tooth structure, patients shouldn't have to choose between improving their oral health and preserving the naturally beautiful appearance of their smile. Instead, you should have the best of both worlds, and that's just what you'll find with all-ceramic restorations here at I-20 Family Dental. Our crowns, bridges, inlays, and onlays are crafted from high-quality materials that look and feel virtually indistinguishable from your original enamel, and Dr. Stephen Wardlaw will work with you closely to ensure that we create the perfect fit for your unique restoration.
All-Ceramic Crowns & Bridges
All-ceramic crowns are exceptionally lifelike in look and feel; in fact, they have the same translucent qualities as your natural teeth. Patients won't even have to worry about noticeable metal bands forming over time. In addition to their clear aesthetic value, they're also durable and biocompatible. In fact, patients who've suffered from sensitivities or outright allergies to metallic restorations in the past can enjoy this improved option as much as anyone else.
If you're looking for a more secure tooth replacement option but aren't the right candidate for dental implants, an all-ceramic bridge could be the perfect solution.
All-Ceramic Inlays & Onlays
Sometimes, patients end up with a cavity that's too big for a filling, but they aren't quite ready for a full crown. What do you do? In these situations, Dr. Wardlaw may recommend having a custom inlay or onlay placed as a conservative alternative. These restorations are placed in your tooth like a filling, but they're made in the same way as a crown. Inlays are designed to fit between the cusps (the bumped areas on the tooth), while onlays are designed to surround one or more cusps.
All-ceramic materials allow inlays and onlays to actually strengthen the structure of your natural tooth over time instead of weakening it. Your chewing strength will remain high, and you should find that the restoration doesn't irritate the gum tissue like a metallic alternative would. Our goal is to help your new and improved smile feel virtually seamless!
At our practice, great service, personalized attention, and a happier, healthier smile are always within reach. Contact our Arlington, TX location today if you have any questions about our available services, or if you're ready to schedule your first visit. We welcome patients from Fort Worth, Kennedale, Grand Prairie, Mansfield, and other surrounding areas.