Children's Dentist in Arlington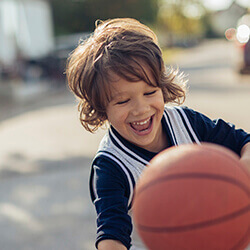 In most cases, Dr. Stephen Wardlaw and the rest of our team recommend that you first bring in your child for an appointment when they're around the age of two or three. However, if you notice any kind of potential problem with their emerging teeth or gums earlier on, it's perfectly fine to contact us and schedule an appointment. We believe that children should be familiar with the sights and sounds of the dental office from a very young age so that they feel comfortable later on during their routine check-ups. Once they're able to handle a genuine examination, we'll take care to be as gentle and soothing as possible as we ensure that their smile is free of decay and developing properly.
As your son or daughter grows, it will be vital for them to attend a check-up and cleaning twice a year. Our Arlington team members teach them how to properly care for their teeth and gums at home, and services like dental sealants and fluoride are also available to strengthen their smiles and provide valuable protection. Dental sealants are designed to cover the chewing grooves of those hard-to-reach teeth, "sealing" them shut and minimizing the chances of bacteria accumulating there. Meanwhile, fluoride is a common mineral found in tap water that also helps to prevent cavities, but the popularity of bottled water means that many children and adults are missing out on the benefits. Both of these services are fast, simple, and painless for your little one's benefit.
We want to provide patients of all ages with the perfect care to fit their unique personality! Contact I-20 Family Dental today if you're ready to schedule an appointment for you or your child, or if you'd like to talk to our team about any questions or concerns you may have. We're conveniently located in the Arlington area, and new patients are always welcome from Fort Worth, Kennedale, Grand Prairie, Mansfield, and beyond.