Oral Surgery – Arlington, TX
Advanced Services to Improve Your Smile's Health
Many dental practices offer only basic services. At I-20 Family Dental, however, Dr. Wardlaw is qualified to perform a number of advanced services. When you need some major work done on your smile, you can rely on our team to provide skillful, compassionate care. Regardless of which treatment you undergo, you can expect us to go the extra mile to make sure you're comfortable during your procedure. Contact us today to learn more about our oral surgery services or to schedule your consultation.
Scaling and Root Planing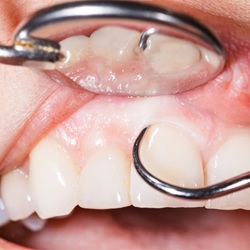 Scaling and root planing essentially amounts to a deep cleaning of the mouth. It is one of the most common treatments for gum disease that has advanced beyond its initial stage. During the procedure, Dr. Wardlaw, your dentist in Arlington, removes plaque and bacteria from both above and below the gumline. Then, he smooths out the roots of the teeth so it is more difficult for bacteria to cling to them. Depending on the extent of the gum disease, scaling and root planing might take place across multiple appointments. Following the procedure, the gums can reattach to the teeth, resulting in a healthier mouth that is well along on the road to recovery from gum disease.
Extractions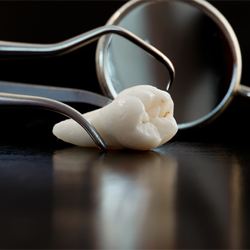 There are essentially two types of tooth extractions. During a simple extraction, Dr. Wardlaw breaks the ligaments that connect a tooth to the surrounding bone before he gently removes the tooth. During a surgical extraction, which is often used for wisdom teeth and other teeth that are stuck beneath the gum line, it becomes necessary to create an incision in the gums. Sometimes, it also necessary to break the tooth into small pieces in order to remove it.
Dental Implant Placement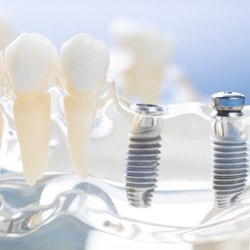 Dental implants act as replacements for the roots of missing teeth. In order to do their job, they need to be inserted beneath the gumline into the jawbone. During the procedure, Dr. Wardlaw creates an incision in the gums, makes room in the bone for the implants, inserts the implants, and closes the gums. Many dentists must refer patients to an outside specialist for this type of oral surgery in Arlington, but Dr. Wardlaw is able to handle it right here in our office. Sometime after your placement surgery, he'll provide you with beautiful, permanent new teeth to go on top of your implants.
Root Canal Therapy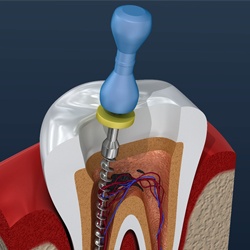 Decay or trauma can allow bacteria to invade the innermost part of a tooth — the pulp. When that happens, the result can be significant dental pain, damage to the tissue around the tooth, and an increased risk of systemic illness. Dr. Wardlaw addresses such issues with root canal therapy. During the procedure, he cleans out the damaged or infected area of the tooth. Then, he fills the tooth with a special material to help it maintain its structure. Most patients require a crown following root canal therapy so the treated tooth can continue to stand up to the rigors of everyday usage.