Patients
Have questions? Visit our Common Questions page for answers.
Your First Visit
Your initial visit should take about an hour, and will include a comprehensive exam. Feel free to download and complete your registration forms ahead of time, or just plan to arrive early so you can fill them out at our Arlington office. After our front office team welcomes you and checks you in, Dr. Wardlaw will meet with you to discuss your short and long term dental goals. Let us know about any problems or pain you are currently experiencing, or if you are especially nervous visiting the dentist. We have soothing solutions to help us make every patient's visit relaxing and comfortable.
Dr. Wardlaw and one of our experienced hygienists will review your health history and perform a periodontal evaluation, oral cancer screening, and professional teeth cleaning. If your smile needs any additional care, we'll sit down with you, discuss the appropriate options, and form a treatment plan that works for you and your budget.
New Patient Forms
To save time, print and complete these forms before your visit. Bring them to your appointment, and we will expedite the registration process. Feel free to contact us if you have any difficulty accessing the forms below.
Insurance and Financing
Dr. Stephen Wardlaw is dedicated to helping his patients receive the best dental services. He understands that not all of his patients are able to pay for their services up front, but he still wants to be able to help them. Our practice is accepting CareCredit from our patients, an easy and convenient way to pay for your dental services.
CareCredit
CareCredit works as a credit card for your medical expenses where you can avoid paying interest as long as you pay the monthly minimum. For purchases that are $200 or more, you are able to make payments in a 6 to 24 month plan. Purchases that are $1,000 or more are eligible for a 24 to 48 payment plan, and $2,500 or more purchases are able to get a 60 month payment plan. This way, our patients are able to pay for their work in installments instead of being turned away for not being able to pay. Regardless, everyone at our practice is dedicated to making sure all of our patients have beautiful, healthy smiles in the most expedient way possible!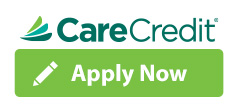 Emergencies
Emergencies are never convenient, but we're always here for you when they happen. If you experience a dental emergency, call our Arlington office. We'll see you the same day, as quickly as possible. After hours, the practice voicemail will give you instructions for how to reach the doctor.