Digital X-Rays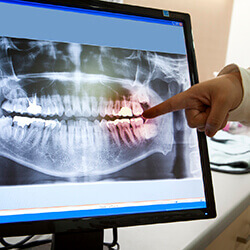 X-rays are vital when it comes to detecting dental problems beneath the surface of your smile, and here at I-20 Family Dental, we're happy to offer a brand-new, much-improved method for capturing them. By using advanced digital radiography, Dr. Stephen Wardlaw and the rest of our team identify all of your internal and external oral structures and diagnose problematic areas or damage with an incredible amount of preciseness and accuracy. Even better, we immediately show this information on a convenient chairside monitor – you won't even have to get up to see it! We want you to be able to fully understand what's going on in your mouth, as well as what can be done to fix it, and digital X-rays can make all the difference in these situations.
Valuable Benefits
In the past, traditional X-rays weren't as easily accessible. The film had to be developed slowly and tediously in a darkroom with hazardous chemicals. Then, they were stored in big, bulky filing systems. Even worse is the significant amount of radiation patients had to be exposed to. Thankfully, our state-of-the-art digital system transforms this process immensely.
When patients arrive for their check-up, we'll place a small sensor within their mouth to capture the images we need. The amount of needed radiation is reduced by up to 90%, and the files are transferred within seconds to our computer system for easy viewing. Having trouble understanding what you're seeing? It's simple for our staff to magnify certain areas of the X-ray, rotate the image, and even color-code it for educational purposes. These files can be stored digitally and sent to insurance companies and/or outside specialists in a safe and speedy fashion.
Do you want to learn more about the benefits of digital X-rays? Feel free to contact our Arlington, TX practice with any questions, or if you're ready to schedule your first appointment. New patients are always welcome from the nearby areas of Mansfield, Grand Prairie, Fort Worth, Kennedale, and beyond.