Teeth Whitening in Arlington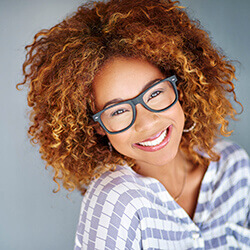 If you're struggling with a smile that looks stained or lackluster, it doesn't have to stay that way – teeth whitening can make all the difference giving you back a bright, shining look that helps you feel happier and more confident in your everyday life. Here at I-20 Family Dental, Dr. Stephen Wardlaw offers multiple options that create simply stunning results – just look at our smile gallery to view some of our past cases!
Why do I need teeth whitening?
There are several different reasons why teeth may discolor over time. Certain foods and beverages like wine and coffee can leave noticeable stains, and unavoidable factors like genetics and age can play a part as well. Certain medications and an excessive amount of fluoride may also be culprits. The truth is, even patients who practice perfectly diligent oral hygiene routines fall victim to these concerns. Thankfully, they don't have to last with assistance from our Arlington dental team. After an in-depth exam and a discussion of your goals for your improved smile, Dr. Wardlaw can recommend the whitening option that will work best for your unique needs and preferences.
In-Office Whitening
If you have a busy schedule or are simply looking for immediate results, in-office whitening could be the right choice for you. You'll only have to attend an hour-long appointment; during that time, our team will apply high-grade bleaching solution to your teeth in a safe and measured manner. By the time you're ready to leave, the changes should be dramatic– in fact, many patients find that their smile is now several shades brighter.
Take-Home Whitening Kits
If you'd rather not attend an appointment at our Arlington practice or you're hoping to achieve more gradual results, we provide you with a customized take-home kit instead. Patients only need to wear the whitening solution and oral trays together as directed each day. Many patients notice changes after the very first application, with the most dramatic improvements occurring after a couple of weeks of diligent use.
Alternates to Teeth Whitening
Sometimes, patients find that teeth whitening solutions can't improve their smile to the level they want. In these cases, veneers or cosmetic bonding might be a better solution. Our team can also use these treatment options to correct other minor flaws on your smile creating a more pleasant look overall.
We look forward to helping you achieve the appearance of your dreams! Contact our Arlington, TX location today to schedule a cosmetic consultation with Dr. Wardlaw. Our team welcomes patients from Grand Prairie, Ft. Worth, Kennedale, Mansfield, and beyond.