Our Caring Arlington Dental Team
Kayla LaNasa, Front Desk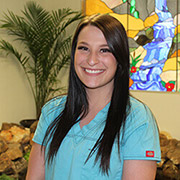 Kayla is an essential addition to our team. She loves working with patients, and makes every patient feel welcome from the moment they arrive. She attended Weatherford College and studied dental assisting at the University of Texas Health Science Center. Kayla maintains certification in CPR. A native of Springtown, TX, Kayla enjoys spending time with her boyfriend, Brad, his daughter, Sawyer, and their cat and dog. She loves spending time with family and friends cheering on the Cowboys, Longhorns, Rangers, and Stars.
Donetta Bragg, Dental Assistant & Insurance Coordinator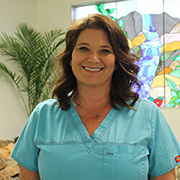 Donnetta brings more than two decades of dental experience to our practice, and patients love working with her to achieve their smile goals. Donetta completed a dental assisting program in Lawton, OK, and is a state of Texas registered dental assistant. A native of Duncan, OK, she is happily married with two adult daughters. In her spare time, Donetta enjoys reading, gardening, exercising, and especially completing DIY projects around the house.
Cindy Hackler, Registered Dental Assistant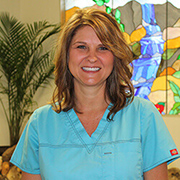 With more than twenty years in the dental field, Cindy loves working alongside the dentist to help patients overcome their fears and transform their smiles. Cindy studied dental assisting at TCJC, and is a registered dental assistant in the state of Texas. Cindy has been happily married for nearly thirty years, and she and her husband have two sons. In her free time, Cindy enjoys spending time with family, reading, and volunteering.
Dana Kinchen, Dental Hygienist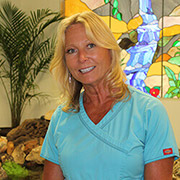 Dana joined our team in 1999, and has worked in the dental field for nearly three decades. She loves working with patients helping them get beautiful smiles and healthy teeth and gums. A graduate of TCJC, Dana took the dental hygiene board certification exam in 1988. A native of California, Dana moved to Arlington as a teenager, and she loves living in Texas. Dana is the proud mother of adult fraternal twins (a son and daughter), and she enjoys going to the gym, attending church, being outdoors, and volunteering with early responders and Habitat for Humanity.
Redonda Baker, Hygienist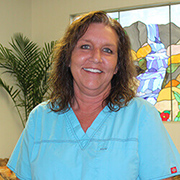 With nearly forty years in the dental field, Redonda joined our team more than a decade ago. Since then, she has enjoyed getting to know her patients and their families, and getting to be a part of a tight-knit, hardworking dentistry team. Redonda studied dental hygiene at Texas Woman's University.
Originally from Crowley, Redonda has been in Arlington for nearly thirty years, and likes to think of it as home. She and her husband, Gary, are the proud parents of Troy a petroleum engineer and Jamie who is working on an MBA at The University of Texas at Arlington. They are also pet parents to two dogs and a cat, and pet grandparents to two dogs. In her spare time, Redonda enjoys being at the lake, playing games, "treasure hunting" with her metal detector, spoiling her fur babies, and napping.
More to Explore