Invisalign in Arlington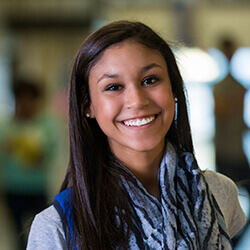 Countless people dream of enjoying a straighter smile, but few of us are able to achieve one completely naturally. The rest require orthodontic treatment, which is a big commitment, especially for adults who've worked hard to cultivate a professional appearance. Here at I-20 Family Dental, we're happy to offer an alternative to the traditional mouthful of metal you're familiar with: Invisalign.
How does Invisalign work?
Instead of regular braces, patients undergoing Invisalign will be provided with a series of clear, customized aligners. Each aligner has been painstakingly designed to represent a different stage of your smile as teeth move towards their ideal positioning. Your job is simple – wear each aligner for as long as you're instructed (usually a few weeks) and then move on to the next one in the set. Additionally, you'll attend brief check-ups with Dr. Stephen Wardlaw so he can make sure everything is going smoothly. That's it!
Invisalign treatment offers patients countless great benefits, especially when compared to traditional braces. These include:
Like the name implies, Invisalign aligners are completely clear. When worn over your teeth, they're so subtle that most people won't even notice allowing them to stay focused on you instead of the orthodontic treatment you're undergoing.
With Invisalign, there are no uncomfortable brackets or wires to worry about – just smooth plastic that's been designed to fit your smile and your smile alone.
The aligners are removable, which means that patients won't have to worry about dietary restrictions or an overly stringent oral hygiene routine.
Do you have a party, graduation, wedding, or other event coming up where you'd like nothing more than to look perfect? It's fine to remove your aligner for an hour or two while you enjoy yourself to the fullest. If you're participating in your favorite sport and need to switch out the aligner for a mouthguard, that's perfectly fine too.
Traditional orthodontic treatment can require two, even three years to successfully complete. With Invisalign, patients can cut down on this timeframe dramatically. In fact, most cases are finished in just 8-18 months.
Are you ready to improve your smile and your self-confidence? Our Arlington, TX team can't wait to meet you. Contact us today to schedule your first consultation with Dr. Wardlaw, or if you have any questions you'd like to ask us. New patients are also welcomed from the surrounding areas of Mansfield, Grand Prairie, Kennedale, Fort Worth, and beyond.