Porcelain Veneers in Arlington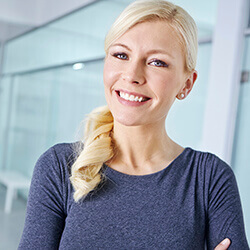 Here in Arlington, Dr. Stephen Wardlaw and the rest of our team love being able to transform patients' smiles with cosmetic dentistry, and porcelain veneers are one of the most popular treatment options today. It's not hard to understand why – they're designed to fit over your teeth, hiding years of stains, chips, cracks, and other aesthetic flaws behind a new movie star look. Here are the steps patients will need to take to receive their own custom veneers:
Your First Appointment
Your initial visit will require an hour or two of your time. Dr. Wardlaw will carefully examine your smile, taking into account your oral health and the look of your existing teeth. Then, you'll discuss the changes you'd like to make. It may be helpful to bring along pictures of family members or movie stars who have beautiful smiles you'd like to emulate. Dr. Wardlaw will take all of this information into account when designing your new veneers, as well as your facial symmetry and measurements. If you have any questions or concerns, feel free to voice them during this process!
The Preparation of Your Teeth
One of the pitfalls of veneers is that they don't respond to whitening procedures, which means that your new "teeth" may not match with the rest of your smile. That's why our team at I-20 Dental is happy to offer FREE in-office whitening beforehand! This allows us to exceed patients' expectations and help them achieve their ideal results.
When preparing your teeth, Dr. Wardlaw will remove a very small amount of natural enamel. This will allow your new veneers to look natural and not bulky. After we've taken detailed impressions, a temporary veneer will be placed so your quality of life isn't disrupted in the interim.
The Creation Process
After your initial appointment is complete, it'll be time to submit your veneer order to a trusted dental lab. There, one of their excellent ceramists will use the detailed information Dr. Wardlaw has provided to craft your restoration from high-quality dental porcelain, ensuring a final result that both looks and feels like natural teeth. Once they're finished, it'll be sent back to our practice.
The Final Placement
Once you've arrived for your placement appointment, Dr. Wardlaw will carefully remove the temporary veneer and then set your permanent veneer into place allowing you to view what it looks like first before it's actually cemented. Do you feel unhappy with the result? Are there any changes you'd like to make? Be sure to voice them now! Dr. Wardlaw wants you to be completely satisfied with the results, and we'll make adjustments as necessary to reach that goal. Once you're happy with your new veneer, our team will clean your teeth and bond it in place over them.
You deserve to have a smile you can feel great about. Please contact I-20 Family Dental today if you have any questions about our available services, or if you're ready to schedule your first appointment. We're conveniently located in the Arlington, TX area, and patients from Grand Prairie, Kennedale, Mansfield, Ft. Worth, and beyond are always welcomed.