Tooth-Colored Fillings in Arlington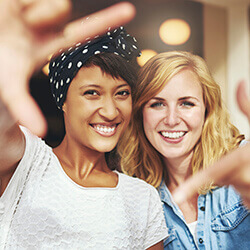 Do you constantly feel embarrassed about the presence of dark, silver-colored fillings in your smile? Today, I-20 Family Dental is happy to offer an alternative: composite resins. In fact, Dr. Stephen Wardlaw can replace your existing fillings restoring your smile to a more attractive state while also maintaining its health.
Composite resin doesn't contain any metal; that's why our team can experiment with different shades until we find that best matches your current smile. The results will be so seamless that only you and our team will know you've had a filling placed at all! In addition to their lifelike appearance, tooth-colored fillings are also more conservative than their amalgam counterparts, and they won't experience sensitivity to temperature changes either. With proper care, they can last up to ten years or longer.
Contact our practice today to schedule your first appointment! We're happy to see patients from all over the Arlington area, as well as Fort Worth, Kennedale, Mansfield, Grand Prairie, and beyond.
Tooth-Colored Fillings FAQs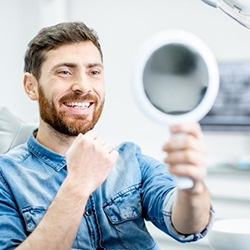 Nowadays, when you have a broken or decayed tooth, you have more options besides getting a dark piece of metal placed in your smile. Tooth-colored fillings are an easy way for Dr. Wardlaw to repair your smile without drawing attention to it. This solution also provides several health benefits over its traditional metal counterpart. Below, we've included the answers to a handful of frequently asked questions about tooth-colored fillings in Arlington for your convenience.
How Long Do Tooth-Colored Fillings Last?
Even though it may sound like metal fillings would last longer, composite resin fillings are often just as durable. Studies have shown that tooth-colored fillings can last for about ten years – about the same average lifespan of amalgam fillings – if you take care of them with good oral hygiene. They might wear down more quickly if the cavity is large or if the tooth is subjected to a lot of pressure from chewing or grinding, but for the most part, tooth-colored fillings are almost if not just as durable as metal fillings.
Are Tooth-Colored Fillings Safe?
Amalgam fillings contain trace amounts of mercury, and people have raised concerns about this issue in recent years. However, numerous public health organizations, including the FDA and the American Dental Association (ADA), say there's no proof that mercury in these fillings is bad for your health.
That said, many patients want to minimize their mercury exposure, which is where tooth-colored fillings come in. Composite contains zero mercury, or even any metal at all. Rest assured that tooth-colored fillings are completely safe.
Are Tooth-Colored Fillings Better Than Silver?
The main benefit of tooth-colored fillings over silver ones is right there in the name – they're designed to blend in with the rest of your smile. They're also better for the long-term health of a tooth. While metal fillings require that some enamel be removed to make room, composite resin chemically bonds to the tooth. As a result, very little if any enamel removal is necessary, so you'll retain more of your natural tooth structure. This direct bond also more effectively seals out the center of the tooth from not only bacteria, but also hot and cold stimuli that could cause painful sensitivity.
How Much Does a Tooth-Colored Filling Cost?
The cost of a tooth-colored filling will depend on the size of the cavity, the location of the tooth within the mouth, and various other factors. Keep in mind that not paying for a filling now may cause the decay to worsen to the point that you need a more expensive treatment later on, like a crown or root canal. Luckily, dental insurance often covers at least part of the cost of tooth-colored fillings.
Are Tooth-Colored Fillings More Expensive Than Silver?
Again, the price varies, but tooth-colored fillings tend to cost slightly more than amalgam fillings. However, when you factor in the health benefits (and the cosmetic ones) that tooth-colored fillings offer, we think you'll find that they're worth every penny!