Dental Insurance – Arlington, TX
Dental Insurance From Your Arlington Dentist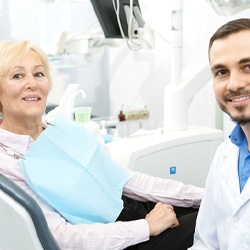 If you would like to schedule an appointment, please contact our office, and let us know which insurance provider you use. It is at this time we can begin to identify the best options for you to save money and get the care you need.
How Dental Insurance Works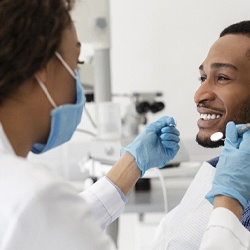 Although the details of your insurance plan may make your coverage different from your friends and neighbors, some basic parameters apply to all.
First, most dental insurance plans have a maximum that will be paid toward your dental needs during a specified time frame, which is usually a calendar year. And while you don't want to go over the maximum (you're responsible for paying the overage) you also don't want to be way under. If you are, then you're paying for benefits that you and your family are not using.
For this reason, South Arlington dentist Dr. Wardlaw encourages his patients to schedule biannual dental checkups for each member of the family. These preventive appointments, along with several other preventive and restorative procedures, are typically part of your dental insurance coverage.
Secondly, like almost any other type of insurance, dental insurance has a deductible. This means that you must pay for a portion of your dental care before your insurance kicks in to cover the cost of any dental service. This requirement usually begins again at the start of each New Year.
Finally, you will need to pay a co-insurance fee. Often called the copayment, this is your out-of-pocket expense for a particular service. Guardian pays a negotiated percentage of the cost for your procedure and then you must pay the balance. A copayment is due at the time of service and is required even once you've satisfied your deductible.
What is the Different Between Dental and Medical Insurance?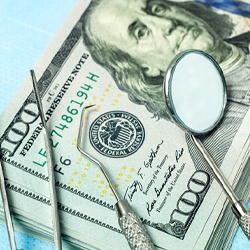 Dr. Wardlaw and his team offer a complete menu of dental services including general, restorative, and cosmetic dentistry, as well as dental implants, periodontal disease therapy, and Invisalign®. With so many available services, you may wonder if any will be filed under dental or medical insurance. The two are vastly different. Here's how:
Dental insurance is designed for prevention. Your insurer's plan should encourage you to have two preventive dental checkups and cleanings each year, as most agree to cover between 80-100% of these services. It is all in an effort to avoid more serious problems in the future.
Medical insurance is the opposite. It is used to address problems that are already occurring or emergencies. When faced with a cold, the flu, or a broken arm, you go to a doctor and file under medical insurance. This type of coverage is available for wellness exams; however, you are less likely to use medical insurance unless something occurs and requires medical attention.
In-Network vs. Out of Network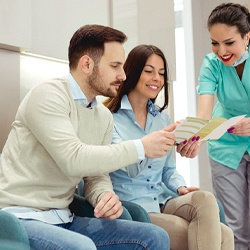 When reviewing your dental insurance benefits, you will find there are two columns: In-Network Coverage and Out-of-Network Coverage. Depending on your plan, you may be able to choose whichever dentist you prefer, but the price you pay for the services you receive will be based on whether they are considered in-network or out-of-network.
In-Network Coverage
As an in-network provider with Guardian Dental Insurance, Dr. Wardlaw has agreed to accept their pre-determined fees for covered procedures. This means that after satisfying your deductible and paying the coinsurance payment, you owe nothing more.
Out of Network
It is possible to still see Dr. Wardlaw even if we are not in-network with your insurance provider. Our team of professionals, Kayla and/or Donetta, will review your coverage and determine if there is any way you can save money during your visit.
Our Friendly Team Members
Kayla, our front desk administrator, and Donetta, our insurance coordinator, will be happy to schedule your appointments, providing available times for consultations with Dr. Wardlaw, and answer any questions you might have about your upcoming procedure or insurance coverage. We know it can be overwhelming and difficult trying to navigate the process, which is why we want to make your visit as stress-free as possible. Whether it is trying to determine which benefits are best to use now or attempting to find out if you are covered for an upcoming root canal or tooth extraction, Kayla or Donetta can provide you with the answers you need.