Dentures – Arlington, TX
Rebuild a Beautiful Smile with Full & Partial Dentures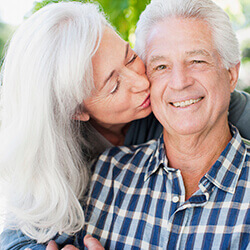 Losing several or all of your teeth doesn't just affect your oral health. It can make even the simplest, most common activities embarrassing and difficult, like speaking or eating. Not to mention, the influence tooth loss has had on your self-esteem. You don't have to live with the challenges of an incomplete smile. Dr. Wardlaw offers the latest advancements to create high-quality, natural-looking dentures in Arlington.
Who is a Good Candidate for Dentures?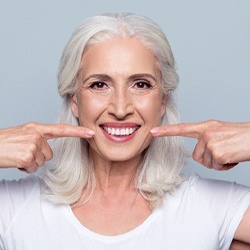 If you've suffered extensive tooth loss throughout one or both arches, you may be a candidate for dentures. You'll require a consultation with your dentist in Arlington, Dr. Wardlaw, to ensure they are right for you. He will examine your mouth and learn more about your goals. Based on your oral and general health, he'll recommend an appropriate solution. Some patients may require a little prep-work before getting dentures, like extractions or periodontal therapy.
Types of Dentures
You have more options than ever to replace your missing teeth, but not all will be right for your smile. Don't worry, Dr. Wardlaw will explain all your options, which may include:
Partial Dentures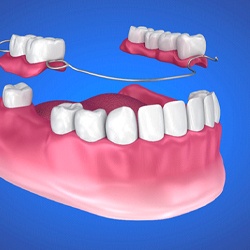 Partial dentures are uniquely designed for each patient using an arrangement of prosthetic teeth along a gum-like base. The teeth are positioned to fill the gaps from those you've lost. They are carefully crafted to match your remaining teeth to blend in with your smile. A partial is held in place using clips or brackets, so it's removable for easy cleaning and storage.
Full Dentures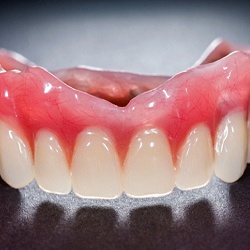 As the name implies, a full denture consists of a complete row of teeth affixed to a gum-colored base that's held in place using suction or an adhesive. They are made from durable, comfortable material for optimal fit and aesthetics. Dentures are a tried-and-proven method to restore a beautiful, functional smile.
Implant Dentures
If you're looking for a more secure and confident tooth replacement method, implant dentures are the way to go. Instead of using clips or adhesives, dental implants anchor the denture to your jawbone. The posts replicate new tooth roots to give you a nearly perfect replica of your real teeth. Implant dentures are available in fixed and removable options. No matter your preference, you'll never have to worry about any slipping or irritation.
The Benefits of Dentures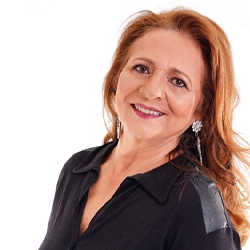 Your teeth are important for more than just an attractive smile. Dentures are an investment in your oral health, quality of life, and self-esteem. Overall, you'll benefit from:
Natural-looking results
Improved speech articulation
Younger appearance
Better oral health
Restored ability to bite and chew
Easy maintenance and care
Cost-effective solution
Peace of mind
Rebuild a Beautiful Smile Today
If you're ready to replace your lost teeth, we'd love to help you get back to smiling brightly. Contact our office today to schedule your consultation with Dr. Wardlaw for dentures. We have the personalized solutions you need to love the smile you see in the mirror.