Full & Partial Dentures in Arlington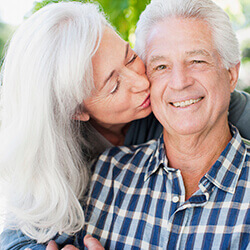 Losing most or all of your teeth doesn't just affect your oral health – it can make even the simplest, most common activities like speaking and eating embarrassing and difficult, not to mention the damage your self-confidence weathers. Here at I-20 Family Dental, Dr. Stephen Wardlaw believes that it's never too late to regain the whole, strong smile you've been missing. Today's advancements in dental materials and techniques have made dentures more natural-looking and comfortable than ever before!
Partial Dentures
Partial dentures are uniquely designed for each patient consisting of an arrangement of teeth along a gum-like base that matches the gaps in their smile. They're held securely in the mouth with clips or brackets, and their removable nature allows for easy cleaning and convenient storage.
Full Dentures
Like the name implies, a full denture consists of a complete row of teeth. They typically stay in place with natural suction (denture adhesive can provide some additional stability), and like partials, they're removable.
Implant-Supported Full & Partial Dentures
If you're looking for a more secure and confident tooth replacement solution, implant-retained dentures could be the right choice. Instead of using clips or adhesive, these custom prosthetics are designed to attach over a number of implants that hold them firmly in place. Both fixed and removable options are available depending on your preference, but no matter what you choose, the days of worrying about slippage are over!
We'd love to help you get back to smiling brightly. Contact our Arlington, TX practice today to schedule your first visit with Dr. Wardlaw, or if you have any questions we could answer for you. Patients from Grand Prairie, Mansfield, Ft. Worth, Kennedale, and beyond are always welcome.