Wisdom Tooth Extraction in Arlington
Wisdom Tooth Removal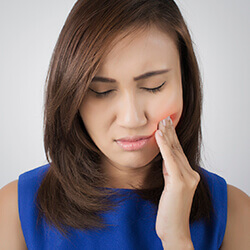 Losing one or more natural teeth is never an ideal option, but there are situations where it's necessary in order to protect a patient's oral health and overall wellbeing. This is never truer than with third molars, which are more commonly known as your "wisdom teeth." Wisdom teeth are the last permanent teeth to erupt in an adult smile, usually appearing when a patient is between the ages of 17 and 21. At this point, there isn't a lot of room left in your natural smile to accommodate them, and many people experience potentially serious problems as a result.
If Dr. Stephen Wardlaw determines that wisdom tooth removal would be best for your smile, he and the rest of our staff will be sure to handle the procedure as smoothly as possible, and amenities like sedation dentistry are available to improve patient comfort even further.
Do I need my wisdom teeth removed?
Wisdom tooth removal can become necessary when the teeth aren't able to successfully and properly erupt into their ideal position. In fact, it's common for these teeth to grow at an angle in the jaw, or even become impacted (trapped) altogether, leading to higher risks of infection, periodontal disease, cysts, tooth decay, significant oral pain, and more. Dr. Wardlaw will closely monitor the development of these areas in younger patients during routine check-ups, and he may recommend removing one or more wisdom teeth as a preventive measure if these problems seem likely.
Our team is here to help you regain the healthiest, happiest smile possible with personalized, hi-tech care. Contact I-20 Family Dental today if you have any questions we can help you with, or if you're ready to schedule an appointment. Located in Arlington, TX, our practice is opened to patients from Ft. Worth, Kennedale, Grand Prairie, Mansfield, and surrounding areas.