Dental Implants for Arlington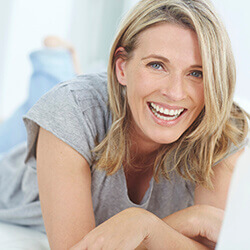 Tooth loss can be a devastating event, affecting your oral health, function, appearance, and even your overall quality of life. Many patients find themselves hiding in the background in photos or avoiding their favorite foods because they're just too difficult to eat. At I-20 Family Dental, Dr. Stephen Wardlaw and the rest of our team want to give you back the freedom to do what you like with your smile, and dental implants can help make that dream a reality. With implants, there's no unnatural fit, no embarrassment – the results are seamless, revitalizing, and truly exceptional.
The Dental Implant Process
Dental implants are very versatile – our team can use them to replace a single tooth or several to secure an implant-retained denture or bridge. The first step towards improving your smile with implants is to have however many you need directly placed into the jawbone. While several dentists have to refer their patients to outside specialists for this procedure, Dr. Wardlaw is able to handle it right here in-office for a comfortable and comprehensive experience. After the implants are placed, patients need to undergo a period of healing during which they'll bond with the jawbone. Finally, you'll return to I-20 Family Dental so that we can create and place your new, personalized restoration on top.
Unlike other tooth replacement options, dental implants are painstakingly designed to replicate the entire structure of your lost tooth. This creates a very strong and permanent foundation for your new teeth allowing you to smile with complete confidence. In fact, as long as they're cared for with regular maintenance, dental implants can last for 20 years, 30 years, or even for the rest of a patient's life!
All-On-4 Dentures
When replacing an extensive number of teeth, The All-on-4 technique is a superior implant option for many patients because of its cost-effective nature and reduced healing time. Instead of the traditional 6-8 implants, All-on-4 is true to its name, allowing for just four strategic implants to support your new prosthetic successfully without the need for bone grafts. In most cases, we can even place quality replacement teeth in the same visit, meaning that you'll spend no downtime at all without the strong, good-looking teeth you need.
Are dental implants right for me?
Before any actual treatment begins, our team will investigate your oral health to determine whether or not implants could be successful. Ideal candidates will need an adequate amount of jawbone density, generally good oral health, and a commitment to care for their implants for the long-run. Additional procedures like bone grafts can be provided to prepare you for your new implants.
Dr. Wardlaw would love to help you regain your ideal smile with dental implants. Contact our Arlington, TX practice today to schedule a consultation! We welcome new patients from Kennedale, Grand Prairie, Ft. Worth, Mansfield, and other surrounding areas.