Dental Implants – Arlington, TX
Completely Replacing Your Tooth, Root and All
Losing a tooth or several teeth can be absolutely devastating. Your oral health will decline over time, it'll be harder to speak and eat, your confidence could be affected, and your overall quality of life will decrease. At I-20 Dental, Dr. Wardlaw and the rest of our team want to help you smile comfortably in public and eat your favorite foods again, and dental implants in Arlington are often the best way to make that dream a reality.
Benefits for Dental Implants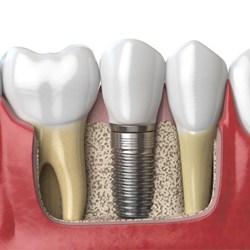 Indications for Dental Implants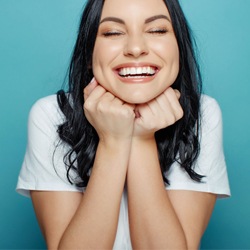 As long as you have enough density in your jawbone and the rest of your mouth is healthy, dental implants can be used any time there's empty space in your smile, whether it's from a single missing tooth or an entire arch.
Missing Single Tooth
If you lose a tooth due to injury or a necessary extraction, you can replace it with a single implant capped by a crown. After the implant has been inserted into the jaw via surgery, you'll need to wait a few months while osseointegration takes place. Once the post has properly joined with the bone and can serve as a strong root, an abutment will be placed, and finally a ceramic, natural-looking crown will be attached.
Missing Multiple Teeth
A dental bridge can replace two or more missing teeth in a row. Normally it would be supported by adjacent teeth, but this can weaken their natural structure and may increase the risk of decay. A bridge supported by two implants will avoid this problem.
Learn More About Missing Multiple Teeth
Missing All Teeth
If all of the teeth in the upper or lower jaw are gone, dentures are required. With implant-retained dentures, you won't need to worry about your false teeth slipping or becoming ill-fitting. With the All-on-4 procedure, you can completely replace an entire arch with just 4 implants.
Learn More About All On 4 Dentures
Start-to-Finish Dental Implant Treatment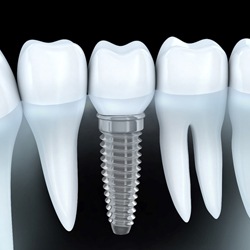 Unlike other practices, Dr. Wardlaw, being a fellow in the International College of Oral Implantologists, can perform the entire process under one roof, from the actual surgery to the placement of the prosthesis. There's no need to deal with the inconvenience of driving to a specialist you barely know all the way across town; everything is done by a dentist in Arlington you're already familiar with and trust.
Understanding the Cost of Dental Implants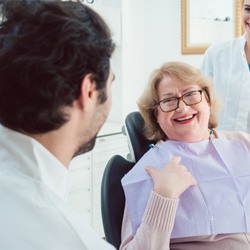 Obviously, a single implant and a crown are going to carry a different price tag than four dental implants and a full set of dentures. During a consultation, we can examine your mouth, figure out what procedures will be necessary, and give you an accurate estimate of the overall price.