Dental Implants — Arlington, TX
Completely Replacing Your Tooth, Root and All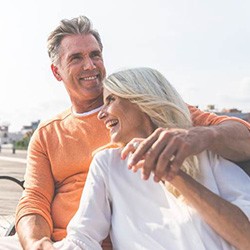 Losing a tooth or several teeth can be absolutely devastating. Your oral health will decline over time, it'll be harder to speak and eat, your confidence could be affected, and your overall quality of life will decrease. At I-20 Family Dental, Dr. Wardlaw and the rest of our team want to help you smile comfortably in public and eat your favorite foods again, and dental implants in Arlington are often the best way to make that dream a reality.
Why Choose I-20 Family Dental for Dental Implants?
Dentist Places and Restores Dental Implants In-House
Replace an Entire Arch Fast with All-On-4
Flexible Financing Options Available
What Are Dental Implants?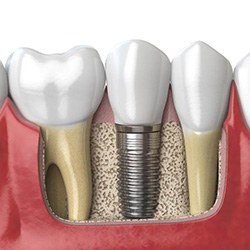 A dental implant is designed to mimic natural teeth as closely as possible. This includes everything from the crown that makes up your smile to the implant that replicates the original tooth root. Because implants are made to integrate with bone and soft tissue, you can expect your tooth replacement to maintain a level of longevity and function that simply can't compare to bridges or dentures. Whether you're smiling, speaking, or eating, dental implants are almost indistinguishable from original teeth. That also means you can smile with confidence without anyone noticing you had teeth replaced. These reasons and more are why so many dentists recommend them for patients missing single, multiple, or even all of their teeth.
Benefits of Dental Implants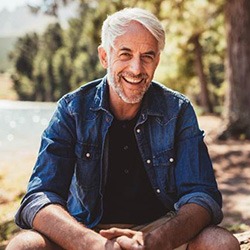 Better Stability: Traditional dentures that rely on suction or adhesive can sometimes slip when speaking and chewing. Dental implants will keep your restoration firmly in place, helping you avoid potentially embarrassing situations.
Eat What You Like: A prosthetic tooth supported by a dental implant has chewing power comparable to a real tooth.
A Healthier Jaw: Implant posts will stimulate the jawbone and keep it from deteriorating, letting you maintain a strong, youthful-looking facial structure.
Lasts a Long Time: With regular maintenance, implants can last 20 years, 30 years, or even the rest of your life!
Who Dental Implants Can Help
As long as you have enough density in your jawbone and the rest of your mouth is healthy, dental implants can be used any time there's empty space in your smile, whether it's from a single missing tooth or an entire arch.
Who Is a Good Candidate for Dental Implants?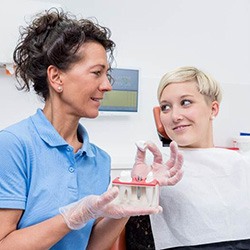 Most healthy adults whose tooth loss is recent are indeed good candidates for dental implants. If your jawbone has insufficient structure to support the dental implants, you may need a procedure like bone augmentation or sinus lift first. Schedule an appointment with your implant dentist to learn whether or not they are a good option for your smile.
Missing One Tooth
If you lose a tooth due to injury or a necessary extraction, you can replace it with a single implant capped by a crown. After the implant has been inserted into the jaw via surgery, you'll need to wait a few months while osseointegration takes place. Once the post has properly joined with the bone and can serve as a strong root, an abutment will be placed, and finally a ceramic, natural-looking crown will be attached.
Missing Multiple Teeth
A dental bridge can replace two or more missing teeth in a row. Normally it would be supported by adjacent teeth, but this can weaken their natural structure and may increase the risk of decay. A bridge supported by two implants will avoid this problem.
Missing All Teeth
If all of the teeth in the upper or lower jaw are gone, dentures are required. With implant dentures, you won't need to worry about your false teeth slipping or becoming ill-fitting. With the All-on-4 procedure, you can completely replace an entire arch with just 4 implants.
Understanding the Cost of Dental Implants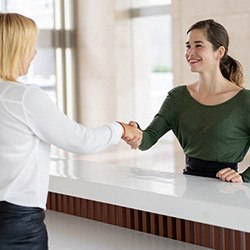 Obviously, a single implant and a crown are going to carry a different price tag than four dental implants and a full set of dentures. During a consultation, we can examine your mouth, figure out what procedures will be necessary, and give you an accurate estimate of the overall price.
Dental Implant FAQs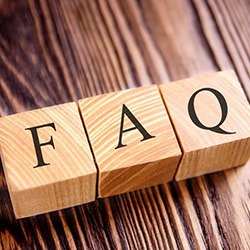 Have you ever wondered exactly what it's like to get dental implants in Arlington? If you're apprehensive about getting them, it may help to learn a little more about the details of the treatment process. That's why Dr. Stephen Wardlaw has taken the time to answer some of the questions about dental implants that he gets asked the most frequently, for your benefit.
Does Getting Dental Implants Hurt?
Rest assured that Dr. Wardlaw will use enough local anesthetic and (if requested) sedation to ensure that you shouldn't feel much discomfort at all during the implant placement procedure. For a few days following your procedure, though, you can expect to deal with some minor soreness and swelling. It is a kind of oral surgery, after all. However, as long as you follow your post-op instructions and take any prescribed pain medication as directed, you should be able to easily manage your discomfort.
What Can Cause Implant Failure?
Dental implant failure is actually quite rare. When it does happen, it's usually due to an infection that develops in the gums around the base of the implant post. In some cases, it's possible to remedy this situation with antibiotics and preserve the implant if the problem is caught early enough. If you notice any swelling or pain around your implants, you should contact us immediately.
Can Smokers Get Dental Implants?
To give your new smile the best chance of lasting for years to come, you should seriously attempt to quit smoking at least two weeks prior to your implant placement. Tobacco use can hinder the mouth's healing process, which is critical to the long-term success of your implants. While you can still receive implants if you smoke, you should ask Dr. Wardlaw to explain all the potential risks and complications that can arise if you continue the habit. You can also ask him for resources to help you quit, and he'll be more than happy to help.
Will I Have to See a Specialist to Get Dental Implants?
Not at all! Unlike many general dentists, who often have to refer patients to an outside specialist like an oral surgeon, Dr. Wardlaw has received the specialized training required to both place and restore dental implants in his own office. Because he is a Fellow in the International Congress of Oral Implantologists, you can rest easy knowing that the dentist you trust is with you every step of the way on your implant journey.