All-On-4 Dentures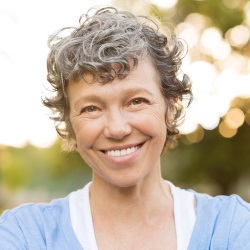 Having any number of missing teeth is rough. However, if you happen to be missing all of the teeth along both or either of your upper and lower arches, then the need for tooth replacement cannot be overstated. Perhaps you are considering dentures, which have been an excellent choice for many years. Now there is an option that takes dentures to the next level of appearance and comfort. All-on-4 dentures blend the good looks and function of dentures with the stability of dental implants. Arlington implant dentist Dr. Wardlaw offers All-on-4 dentures so you can enjoy the health and esthetic benefits of having a complete and secure smile.
What are All-on-4 Dentures?
All-on-4 dentures are a permanent solution to tooth loss. Just like natural teeth, these false teeth remain fixed in place thanks to four strategically positioned dental implants that only require regular brushing and flossing. They do not need to be taken out for cleaning or soaking. To maintain your All-on-4 dentures, you will need to schedule regular dental checkups with Dr. Wardlaw.
How is All-on-4 Dentures Different?
As the name suggests, All-on-4 dentures are secured into position with four dental implants. Traditional implant-supported dentures could need six or even eight implants per arch. All-on-4 dentures, on the other hand, are slightly smaller than other implants and are set at an angle in your jaw in order to take advantage of the most bone volume, a key to the success of any kind of dental implants. Therefore, bone augmentation surgery is rarely necessary for most people receiving All-on-4 dentures.
What's Involved in Receiving All-on-4 Dentures?
As with standard implants, All-on-4's special implants are surgically embedded in your jaw. Immediately after surgery, Dr. Wardlaw will be able to place a temporary and removable set of dentures so your smile will be complete while your gums heal.
The healing process usually takes between six to eight months. During this time, the implants integrate with your jawbone to form a secure foundation for dentures. After you've healed completely, Dr. Wardlaw will carefully plot every curve and dip along your gums in order to design permanent dentures that fit comfortably. Unlike traditional dentures, All-on-4 do not press down on your gums, so once you are accustomed to always having an oral prosthetic in your mouth, you just might not even notice you're wearing dentures!
Dr. Wardlaw would be glad to help you regain your ideal smile with All-on-4 Dentures. Contact our Arlington, TX practice today to schedule a consultation! We welcome new patients from Kennedale, Grand Prairie, Ft. Worth, Mansfield, and other surrounding areas.