April 6, 2018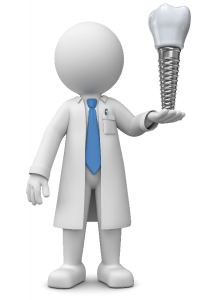 Over the last several decades, the rate of tooth loss in the United States has drastically declined due to improvements in dental care. Unfortunately, it is estimated that more than 120 million Americans have at least one missing tooth. To fill the empty space, more than 500,000 people per year are turning to dental implants. When compared to other dental prosthetics, they will allow you to regain the next best thing to your real teeth. Your dentist in Arlington can help you restore your smile; however, before you are ready to commit, you are concerned about their cost. Although they may cost more upfront than traditional options, they allow you to make a long-term investment.

How Much Do Dental Implants Cost?
Dental implants will cost more upfront than other tooth replacement options, like dentures; however, there is not a "one size fits all" price tag. The amount you will pay for your new smile will be based on several factors, such as:
How many teeth need to be replaced
Additional procedures
Materials used
Specialists
Sedation and anesthesia
Insurance coverage
With various factors influencing how much you will pay, the only way to receive a precise estimate for dental implants in Arlington is with a consultation. Your dentist will help you understand the cost of the procedure, as well as how it will pay for itself in the future.
Make an Investment in Your Smile
Although dental implants will cost more upfront, they are more cost-effective long-term. On average, they offer over a 95% success rate and the potential to last for a lifetime with the right aftercare. As your jawbone fuses to the implant post, it creates a secure bond. As a result, you will not have to worry about the implant post needing to be replaced in the future.
Your dental crown will suffer daily wear and tear; therefore, it will need to be replaced about every 10 years. Even with this expense, you will still save money when compared to traditional options, like dentures. You will not require adjustments, maintenance, expensive cleaning solutions, or messy adhesives.
Dental implants will also improve your oral health to lower your long-term cost for care. With the ability to preserve your bone density in your jaw, you will protect any remaining natural teeth from becoming loose or falling out.
Complete Your Smile Today!
If you are ready to stop living with tooth loss, you can complete your smile with dental implants. To make paying for your procedure more affordable, many dentists offer financing options and payment plans. To get started, contact your dentist today for a consultation an estimate.
About Dr. Stephen Wardlaw
Dr. Stephen Wardlaw is committed to providing his patients with world-class dental care. He embraces the latest advancements in dentistry to promote optimal oral health while improving his patients' quality of life. If you are suffering from tooth loss, he can help you complete your smile with dental implants. To replace your missing teeth, contact our office today to schedule your consultation.
Comments Off on Dentist in Arlington Explains the Cost of Dental Implants
No Comments
No comments yet.
RSS feed for comments on this post.
Sorry, the comment form is closed at this time.