May 16, 2018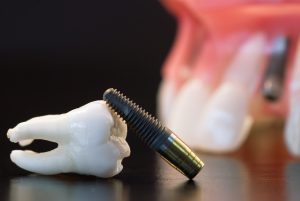 Gum disease is extremely common, with its various stages afflicting roughly half of the adults in the United States. If you are among the many who are fighting this condition, you might wonder how your periodontal health may affect your candidacy for dental implants in Arlington. Let's talk about this important subject.
Healthy Gums Are Essential for Implant Success
One of the best things about dental implants is that they bond with the body, creating an extremely strong base for your new teeth. This unique bond can even help to prevent the bone loss that often comes after a tooth extraction.
In order for the bond to succeed, however, it is important that you have healthy gums. That is because periodontal disease greatly increases the risk that an infection will eat away at the bone surrounding the implants, thereby robbing them of their base of support and ultimately leading to implant failure.
Don't Give Up on Implants!
Don't let the foregoing information make you believe that you can never receive dental implants. In fact, you may very well become a candidate for this life-changing procedure in the future. First, however, you need to take a few important steps:
Visit your dentist in Arlington and talk about your desire to receive dental implants. With that goal in mind, your oral healthcare provider will be happy to design a treatment plan to address your periodontal disease.
Undergo periodontal disease therapy. Depending on how far your gum disease has progressed, you may need scaling and root planing (deep cleaning), laser gum therapy, or surgery to restore your gum health.
Demonstrate that you can keep your gum disease at bay. You may have to be extra diligent about your oral hygiene so you can ward off bacteria that wants to ravage your gums.
Once your gum disease is no longer active, talk to your dentist again about implants. You may be in for some very good news!
Maintaining Your Oral Health After You Receive Implants
Maintaining your gum health is always important, but it is especially so if you have dental implants. Even after implants have established a bond with your body, that bond can still be compromised if an infection occurs. That's why you'll need to brush and floss regularly and visit your dentist at least twice a year for checkups. If it looks like gum problems are starting to creep up again, you may be able to nip them in the bud before they cause complications for your restored smile.
Healthy gums are an essential aspect of a successful implant procedure. If you would like to replace your missing teeth but have concerns about your periodontal health, please get in touch with your dentist so you can get on the road to regaining the grin that you've been missing.
About the Dentist
Dr. Stephen Wardlaw is your friendly, skilled dentist in Arlington. He is qualified to treat gum disease and place dental implants, making him your go-to oral healthcare provider if you would like to replace your missing teeth. Please contact our office at 817-572-5115 to ask questions or schedule an appointment.
Comments Off on Can I Get Dental Implants in Arlington if I have Gum Disease?
No Comments
No comments yet.
RSS feed for comments on this post.
Sorry, the comment form is closed at this time.