February 21, 2019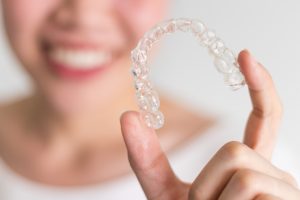 Are you ready to get the straight smile you have always wanted without brackets and wires? That is great! Invisalign in Arlington is the clear choice in orthodontics because it offers a variety of benefits that are not achievable using metal braces. Although you are excited to start the process, there is one concern standing in your way. It is natural to worry about the cost of the aligners, but you have nothing to fear. Invisalign is an investment in your oral health and your confidence.
How Much Does Invisalign Cost?
Invisalign differs from traditional braces because it does not use brackets or wires to pull your teeth into position. Instead, a series of clear plastic aligners are worn over your teeth to gradually move them into alignment. Often, it is thought Invisalign costs a considerable amount more than metal braces, making it unachievable for the average person, but this is untrue.
The cost of Invisalign is similar to that of metal braces. There is no set amount you can expect to pay because the price is determined by your individual treatment plan, such as how many aligners are needed. Your dentist in Arlington provides you with a custom estimate during your initial consultation and discusses your payment options, such as using your dental insurance.
Is Invisalign Worth the Cost?
You invest in your confidence and your oral health using Invisalign. If you are insecure about your appearance, you can take comfort knowing the aligners are nearly invisible, so you do not need to worry about any unnecessary attention brought to your mouth throughout your treatment. After you finish your series of aligners, you will enjoy a lasting beautiful smile to improve how you view yourself.
Invisalign can also lower your long-term dental costs. When your teeth are out of alignment, it makes them more difficult to clean, increasing your risk of tooth decay and gum disease. In some cases, it can even cause abnormal wear on your enamel or lead to a disorder of your temporomandibular joint (TMJ), which connects your jaw to your skull on either side of your face. You even have a heightened risk for dental emergencies because protruding or rotated teeth often take the brunt of the injury when there is trauma to the face or mouth. This can easily lead to a broken or knocked out tooth.
Correcting your bite and alignment issues decreases the likeliness for preventable oral health problems, TMJ disorders, and dental emergencies. This lessens the need for costly treatments in the future to save you money down the road.
Invest in Your Smile
Now, there are several ways to pay for Invisalign, such as using your dental coverage or CareCredit. Your dentist provides you with the individualized solution you need to get a straight smile while staying within your budget.
About Dr. Stephen Wardlaw
Dr. Stephen Wardlaw strives to create lasting healthy, beautiful smiles. He offers the latest solutions in cosmetic dentistry, including Invisalign. Contact our office today for a consultation to see if you are a candidate for the clear aligners and to receive a personalized estimate.
Comments Off on How Much Does Invisalign in Arlington Cost?
No Comments
No comments yet.
RSS feed for comments on this post.
Sorry, the comment form is closed at this time.