December 23, 2019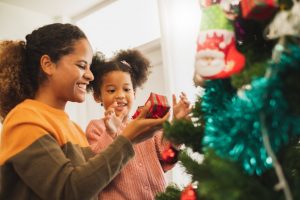 Holiday dental emergencies are among the most stressful situations to handle. Unfortunately, they're not completely avoidable, so it's important to know how to deal with them if they occur. Acting quickly and effectively could be the difference between saving and losing a tooth, which would be a mess to deal with while your family is in town. Here are some first-aid tips and tricks to help reduce the risk of damage and ease your pain in a holiday crisis.
Broken or Chipped Tooth
If you have a chipped, broken, fractured, or cracked tooth, you may experience some uncomfortable sensitivity to hot and cold temperatures. Minor damage doesn't require immediate attention, although it's a good idea to visit your emergency dentist right after the holidays so they can make any necessary repairs and prevent harmful oral bacteria from attacking your tooth. However, for severe damage, you'll want to call your emergency dentist immediately. While you're on your way to the office, be sure to:
Gently rinse your mouth with lukewarm saltwater.
Apply a cold compress to the outside of your cheek to reduce swelling.
Take an over-the-counter pain reliever to help with the pain.
Use dental wax to cover any sharp edges of your broken tooth.
Knocked-Out Tooth
Knocking out a tooth is a serious emergency that requires immediate attention. In this case, time is of the essence, so you'll want to drop what you're doing, call your dentist, and retrieve your tooth. Be sure to only handle your tooth by the biting surface and rinse it under cool water. If you're able to, place it back in its socket. If not, fill a container with milk or water and store your tooth in it to keep it moist and alive. If it's possible, get to your emergency dentist within an hour of the accident.
Lost or Damaged Crown
If you're in the middle of your holiday celebrations, a lost or damaged restoration may be able to wait for a couple of days until your family leaves town. However, it's important to get it replaced or repaired as soon as possible to keep your natural tooth healthy. If you are able to retrieve your crown, try temporarily reattaching it to your tooth using denture adhesive or a piece of sugar-free gum. In the meantime, contact your dentist to set up an appointment for after the holidays.
Severe Toothache
Severe toothaches are often caused by a tooth infection. When harmful oral bacteria gain access to the vulnerable inner portion of your tooth due to decay, they attack your pulp, which is a cluster of nerves. Without timely intervention, this infection can spread to other teeth and get worse, resulting in the need for a tooth extraction. To avoid additional damage, contact your dentist immediately. While you're getting ready for your appointment, you can rinse with warm saltwater, place a cold compress on the outside of your cheek, and use over-the-counter pain relievers such as ibuprofen to take care of your discomfort.
No matter what your emergency is, your dentist will be able to provide you with first-aid guidance to help you get through the holidays with minimal damage to your teeth and gums. The sooner you contact them, the sooner they can treat your condition, restore your oral health, and get you back to your family so you don't waste valuable time while they're in town.
About the Author
Dr. Stephen Wardlaw is committed to providing his patients with the highest quality of dental care to prevent them from experiencing emergencies down the road. However, he understands that accidents happen, which is why he offers urgent treatment and low-cost emergency examinations. For questions or for first-aid guidance, contact I-20 Family Dental's website or call 817-572-5115.
Comments Off on Do You Know What to Do During a Holiday Dental Emergency?
No Comments
No comments yet.
RSS feed for comments on this post.
Sorry, the comment form is closed at this time.