March 17, 2020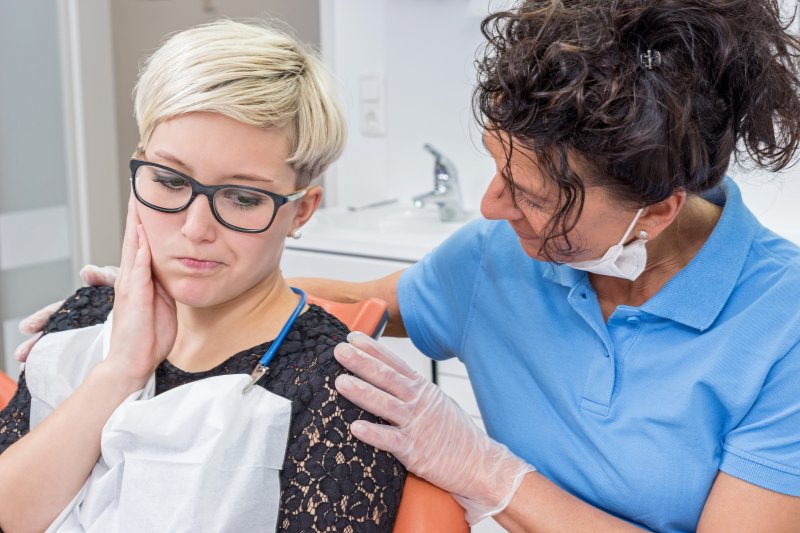 If you're worried about taking time off work or factoring in an extra dental appointment into your budget, you might start to second guess whether or not the pain you've noticed in your mouth actually counts as an actual emergency. However, ignoring a truly urgent dental issue will only lead to bigger problems later (not to mention more costly treatments). Take the time to familiarize yourself with these 4 symptoms that are often connected to dental emergencies.
1. Loose Permanent Teeth
To put it simply, your adult teeth don't come loose – at least, healthy ones don't. Once they've fully matured, they're meant to stay firmly in place so that you can eat and speak properly. A loose tooth is never a good sign; it could mean that you've suffered an injury that requires medical attention, or it might be a side effect of a localized infection that is destroying the bond between the roots of the tooth and the skull. The tooth can be salvaged in some cases but might have to be extracted in others. No matter what the cause is, though, you can expect a much better outcome if you act sooner rather than later.
2. Severe Tooth Damage
Any kind of crack or chip on your tooth definitely needs to be examined in the near future, but minor damage may not rise to the level of an emergency that requires attention outside of your dentist's normal operating hours. But if the damage is visibly severe or accompanied by pain to any degree, an urgent dental appointment is required.
3. Persistent Pain
Toothaches are never pleasant, and some are definitely worse than others. In fact, the pain or sensitivity might even start to grow worse over time, which could mean there's an infection spreading throughout the tooth. If such an infection were to reach the root, you might need root canal therapy, or the tooth might need to be removed altogether. Get in touch with your emergency dentist right away if you have a toothache that doesn't respond to the care you give it at home.
4. Swelling of the Gums or Jaw
Painful swelling could mean that an abscess has formed; these infected pockets form at the roots of your teeth and could herald the bacteria spreading to other parts of the body. If you don't want to lose any of your teeth or deal with additional health problems later, you need to have the condition treated as soon as possible.
In general, if you're still not sure whether your symptoms constitute an emergency, it's a good idea to ask yourself: "Have I been hit in the mouth lately? Is my tooth pain severe? Is there any swelling or bleeding? Do I have any loose or lost teeth?" Answering "yes" to any one of these questions is a sure sign that you need your dentist's help.
About the Author
Dr. Stephen Wardlaw has been practicing dentistry in Texas for over 10 years now. His current practice, I-20 Family Dental in Arlington, offers quality care to patients of all ages in a family-friendly environment. During an emergency, Dr. Wardlaw is licensed to use conscious sedation, and he uses advanced techniques to relieve pain and repair teeth. Call his office at (817) 572-5115 if you think you need emergency care; you can also get in touch with his practice through his website.
Comments Off on 4 Signs of True Dental Emergencies That Need to Be Treated Right Away
No Comments
No comments yet.
RSS feed for comments on this post.
Sorry, the comment form is closed at this time.