August 13, 2020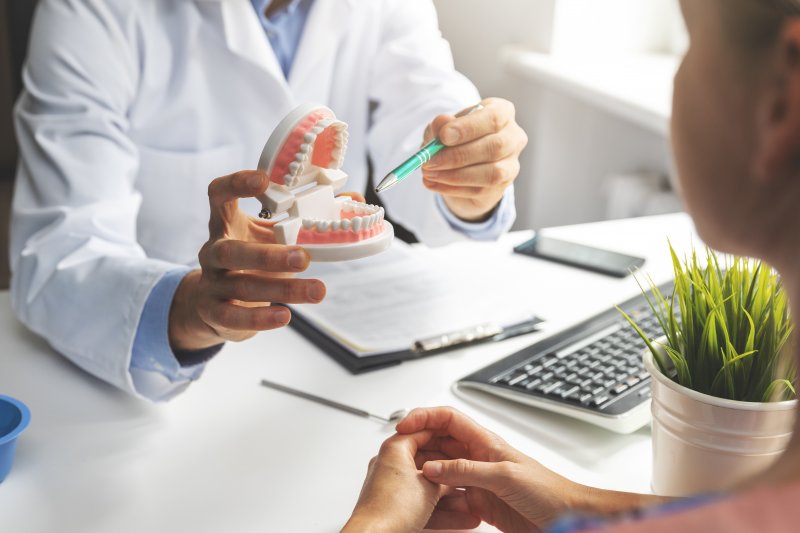 Did you know that roughly 33% of Americans are unhappy with their smile? Plus, a whopping 22% of U.S. adults think a better smile would improve their love life! So, if your misaligned, missing, or discolored teeth have you feeling insecure, then you are not alone. Fortunately, patients can lighten their smile, remove their wisdom teeth, and correct their gumlines with restorative and cosmetic treatment options. Although each of these two areas of dentistry can improve your oral health and emotional wellbeing, it is important to know the difference. That way, you are left with the beautiful results you desire!
What Is Restorative Dentistry?
At its core, restorative dentistry involves improving and maintaining the functionality of your teeth. For example, missing or severely decayed teeth can negatively impact your ability to properly chew and speak. Not only can this lead to a poor quality of life, but it can also lead to indigestion, poor nutrition, and social anxiety. Fortunately, patients with similar issues can benefit from restorative treatment options, like:
Dental implants.
Dental crowns.
Fillings.
Root canals.
Full or partial dentures.
Wisdom tooth extractions.
What Is Cosmetic Dentistry?
On the other hand, cosmetic dentistry is designed to enhance the appearance of natural teeth! Although misaligned or discolored teeth may not affect your ability to chew, it can cause you to feel self-conscious or uncomfortable in social situations. The good news is that patients who struggle with a lack of confidence due to imperfections in their smile can opt for cosmetic dentistry options like:
Teeth whitening treatments.
Invisalign in Arlington.
Tooth-colored fillings.
Porcelain veneers.
How Do I Know Which Is Right For Me?
With a multitude of options available, it can be difficult to know which treatment is right for you. Fortunately, your dentist can help you decide! By scheduling an appointment with their team, you can discuss what aspects of your smile you are unhappy with, as well as what your dream result is. Next, they can conduct a dental exam and discuss the pros and cons of each option to ensure you can make an informed decision. From there, you can discuss your treatment plan and be well on your way to achieving your smile goals!
About the Author
After completing his undergraduate degree from the University of Arkansas, Fayetteville, Dr. Stephen Wardlaw earned his doctorate from Baylor College of Dentistry. Over the past 20+ years, Dr. Wardlaw has completed numerous hours of continuing education, undergone advanced training, and provided his patients at I-20 Family Dental with world-class care. He is also a member of multiple reputable organizations, including the American Dental Association and the State of Texas Dental Association. If you are looking for a cosmetic dentist in Arlington, don't hesitate to visit his website or give him a call at 817-572-5115.
Comments Off on Restorative vs. Cosmetic Dentistry: What's the Difference?
No Comments
No comments yet.
RSS feed for comments on this post.
Sorry, the comment form is closed at this time.