December 16, 2020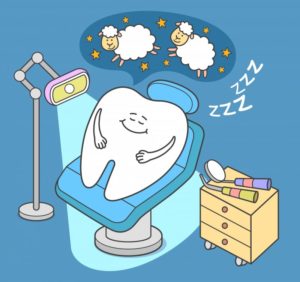 If the thought of visiting the dentist or having dental work done makes you feel extremely uncomfortable, you're alone! Dental anxiety is a very common condition that affects more than 30% of the population. Thankfully, oral conscious sedation in Arlington can make your experience with your dentist much more pleasant. Most people know about nitrous oxide, more commonly referred to as "laughing gas," but did you know there are other sedatives that dentists often use to help calm patients? Even if you're just there for a regular check-up. Keep reading to learn about the most common types.
The Four Most Common Conscious Oral Sedation Methods
Oral Conscious Sedation is very commonly used among dental practices for patients who are having extremely minimally invasive dental work done, or just need a bit of help to alleviate their dental anxiety. Here are the most common drugs used in the process:
Midazolam
This is a subordinate in the class of drugs referred to as benzodiazepines. Its primary functions are to cause temporary memory loss and decrease anxiety. It is administered through the veins directly into the blood system with effects beginning in under 4 minutes. It will not affect the heart or lungs, and typically lasts between an hour and an hour and a half.
Propofol
This anxiety relieving drug is also administered intravenously and goes to work much more quickly with in a minute or two. Once treatment is complete, the patient typically recovers from the effects more quickly, as it does not last as long as some other sedatives.
Ketamine
Oddly enough, this is actually a derivative of a psychedelic drug known as phencyclidine, but without the same effects. Instead, it simply helps to reduce memory and relieve pain during a dental procedure. It is also best for shorter procedures, as the effects begin to wear off within ten minutes after being administered into the veins.
Dexmedetomidine
Finally, there is dexmedetomidine, which helps a patient to essentially sleep without being fully unconscious. Like its predecessors, it is administered through a vein. The difference is that it is done continuously throughout the procedure, much like traditional anesthesia. Due to the low doses given, the dentist will still be able to communicate with the patient throughout the process.
Seeing your dentist on a regular basis plays a key role in ensuring your oral health. It's especially important if you think you may be experiencing a dental issue. If you find yourself avoiding regular checkups with your dentist because of anxiety, talk to them about oral conscious sedation options and keep your smile shining brightly!
About the Author
Dr. Stephen Wardlaw leads the team of experts at I-20 Family Dental. He is passionate about ensuring that each of his patients feels at home and completely at ease the moment they enter the door of his practice. With years of experience and continuing education under his belt, he is able to provide superior care for everyone he sees. Are you ready to feel better about visiting the dentist? Schedule a consultation online or call (817) 572-5115.
Comments Off on Four Common Conscious Sedation Drugs Used by Dentists
No Comments
No comments yet.
RSS feed for comments on this post.
Sorry, the comment form is closed at this time.