January 11, 2021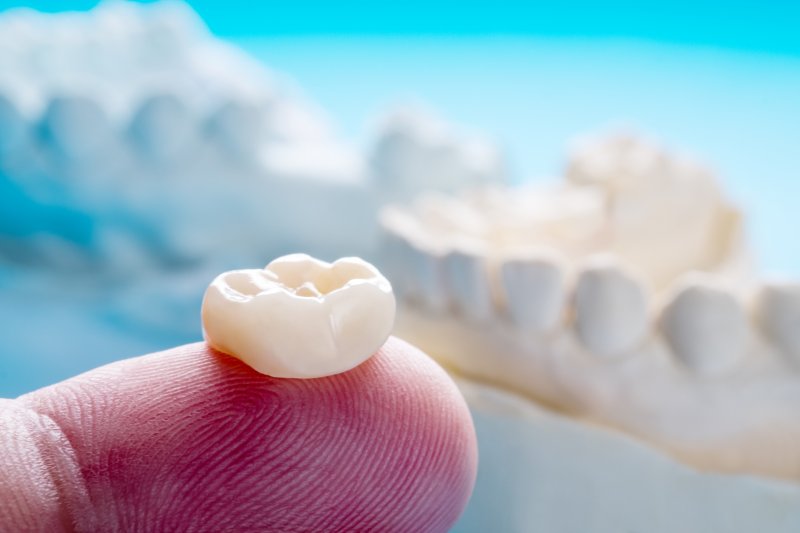 Did you go to the dental office only to discover that you're in need of a dental crown? Why would you need one? What even is a dental crown? What can you expect during your treatment at the dental office? This tooth-shape cap is used in a variety of different situations in order to protect a compromised tooth. Continue reading to learn more about dental crowns, why you may need one, and what the process looks like.
What Exactly Is a Dental Crown?
A crown is a cover or cap that is placed over a tooth that can be made from a variety of different materials, including metal or porcelain. The intention of a crown is to protect damaged tooth structure or replace a tooth. With a crown, patients are able to have an improved appearance and better chewing function.
What Are Dental Crowns Needed?
You may require a dental crown for any of the following reasons:
Protect a weak tooth from breaking or to hold multiple parts of a cracked tooth together.
For restoring a tooth that is already broken or has been severely worn down.
To cover and support a tooth that has endured either a large filling or root canal that hasn't left the tooth with much remaining structure.
In order to hold a dental bridge in place when replacing a missing tooth.
To place on the end of a dental implant.
Cometic modifications.
How Are Teeth Prepared in Order to Receive Crowns?
Generally, receiving a dental crown requires two visits to the dental office. The first appointment involves your dentist examining and preparing the tooth. They may take a few x-rays in in order to check the roots of the tooth and surrounding bone. Your dentist will use anesthesia to numb the tooth and surrounding gum tissue. The tooth will then be reshaped along the chewing surface and sides in order to make room for the crown. Next, they will typically use a paste or putty in order to make an impression of the tooth, but this could also be done with the use of a digital scanner. Your dentist will make a temporary crown to cover and protect your tooth for the time being.
During your next visit, your dentist will remove the temporary crown and check the fit and color to make sure everything looks good. A local anesthetic will be used again to numb the area while the new crown is cemented into place. Then you're good to go!
Crowns are a great way to keep your compromised teeth safe. If you think that you are in need of a crown, give your dentist a call. This way, you can ensure that your smile stays strong and healthy.
About the Author
Dr. Stephen Wardlaw is an experienced dentist who has been practicing in Texas for over a decade. He earned his dental doctorate from the Baylor College of Dentistry and is a member of numerous professional organizations, including the American Dental Association and the State of Texas Dental Association. If you think you are in need of a dental crown, Dr. Wardlaw would be happy to help. For more information or to schedule an appointment, visit his website or call (817) 572-5115.
Comments Off on Why Would I Need a Dental Crown?
No Comments
No comments yet.
RSS feed for comments on this post.
Sorry, the comment form is closed at this time.