February 2, 2021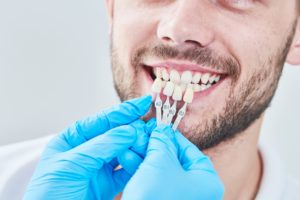 If you have a damaged tooth, your dentist may recommend a dental crown in Arlington. You might be envisioning a dark restoration sticking out like a sore thumb when smiling; however, modern crowns are designed to blend in with your teeth. Your dentist uses an advanced technique to ensure your crown matches the exact color of your enamel. Here are the art and science that goes into creating the perfect shade for your all-ceramic crown.
Determining the Ideal Color
Matching the color of teeth isn't easy. It requires a great deal of precision and experience. Your natural teeth can range in color from yellowish to off-white. As a result, the whitest shade may not always be the right choice.
Believe it or not, the color of a tooth consists of many things, like hue, chroma, and value. The hue is the natural colors within the teeth, like yellow, red, and gray, while the chroma refers to the saturation or intensity of the hue. The value determines the lightness or darkness of the shade.
Color Selection Process
Your dentist will use a color-matching tool to select the perfect shade for your crown. It involves a metal or plastic card featuring fake porcelain teeth arranged by shade in a particular order. Your dentist will hold the guide by your teeth to find the closest one to your enamel. Although it may seem easy, your dentist will consider a variety of factors to find the perfect match.
The color of your tooth can be subjective depending on several factors, like the lighting in the room. Your dentist will look at your tooth under natural lighting, such as near a window. If a natural light source isn't available, your tooth should be viewed under fluorescent lights. It's never a good idea to use regular incandescent lights because they can make your tooth look too yellow or alter the real color.
To ensure nothing distracts your dentist from seeing the true color, they'll recommend you don't wear bright lipstick or makeup. It's also a good idea to skip any brightly colored clothing. Your dentist may even cover your clothing in a gray bib to reduce any color contrasts. It also gives your dentist a neutral place to rest their eyes because they shouldn't look at your teeth for over 7 seconds when comparing them to the guide. Taking little breaks gives time for the rod cells in their eyes to reset.
Enjoy a Natural-Looking Solution
After your dentist finds the right shade, they'll send the information to the dental laboratory where your restoration will be carefully crafted to match your exact specifications. Rest assured, your crown will look just like your real teeth, so no one will know it isn't natural.
About Dr. Stephen Wardlaw
Dr. Wardlaw earned his dental degree at the Baylor College of Dentistry. He regularly continues his training to provide many advanced techniques in restorative and cosmetic dentistry. As a member of the Academy of General Dentistry, he provides high-quality dental crowns to rehabilitate compromised teeth. Contact our office today to schedule your consultation.
Comments Off on How Dentists Color-Match Dental Crowns
No Comments
No comments yet.
RSS feed for comments on this post.
Sorry, the comment form is closed at this time.