July 4, 2022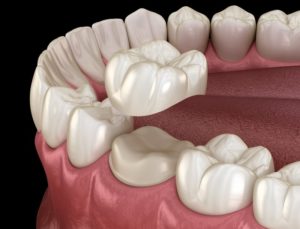 There are certainly benefits to getting a dental crown, so it may be an option you are considering to perk up your smile. Among other things, you are wondering if the procedure is painful. Considering that a crown not only benefits your appearance but also protects a tooth that used to be damaged, you decide it's worth investigating. Keep reading to learn more about this beneficial oral health addition from your dentist in Arlington.
Does the Procedure to Get a Dental Crown Hurt?
Okay, you don't want to wait to find out about the pain issue. When you get restorative work like a dental crown performed by your dentist, they are going to numb the area with an anesthetic so you won't have to worry about pain during the treatment, and then it will wear off gradually.
It is not unusual that you would experience some tenderness in the area for two weeks or so as the nerves in that tooth respond to the changes from the crown application. An over-the-counter pain reliever should be able to corral any mild sensitivity during this period. In the long term, a dental crown will help you experience less pain and sensitivity since it is protecting a tooth that was otherwise going to be a source of discomfort.
What Are Some Benefits of a Dental Crown?
Now that you know pain is not a major hurdle looming with a crown, you want to know more about how it can help you beyond appearance and fixing damaged teeth:
Hides effects of bruxism: If you grind your teeth, especially at night without a mouthguard, you may have noticed changes over the years. It can make your teeth worn down and vulnerable. A dental crown offers protection and can make your teeth longer as they would appear without the grinding.
Protects a tooth after a large filling: A tooth with excessive decay may require a large filling. A crown strengthens the tooth to reduce the risk of future breakage.
Strengthens a tooth after root canal treatment: A root canal is done to save your tooth, but if it is not capped afterward, it is especially prone to splitting or breaking. If you make the effort to preserve the tooth, you should reinforce it.
Adds stability to a dental bridge: A dental bridge restores the function and appearance of an area with one or more missing teeth. A crown adds structure to the bridge and cushions the abutment teeth to prevent further damage.
Offers lasting support: A dental crown can last 15 years or more if you take great care of it.
Other than some tenderness for a while after the procedure, pain is virtually a nonfactor in the decision to get a dental crown. Meanwhile, there are so many ways in which it can provide a boost to a tooth that needs help. If you still have any crown concerns, be sure to ask your dentist in Arlington during a consultation!
About the Author
Dr. Stephen Wardlaw started I-20 Family Dental with Dr. Ken Karger just one year after earning his dental doctorate from Texas A&M. He has memberships in numerous professional associations including the American Dental Association and the Academy of General Dentistry. If you are interested in getting a dental crown, Dr. Wardlaw is ready to provide you with a high-quality, customized restoration. Schedule a consultation on his website or call (817) 572-5115.
Comments Off on Is It Painful to Get a Dental Crown?
No Comments
No comments yet.
RSS feed for comments on this post.
Sorry, the comment form is closed at this time.