August 16, 2022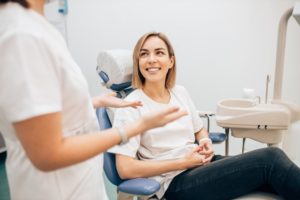 If you'd like to make those pesky flaws in your teeth vanish, there's no better solution than visiting a cosmetic dentist. Of course, no two dentists are exactly alike, and you'll need to choose the one who will best meet your specific needs. Since the American Dental Association (ADA) doesn't recognize cosmetic dentistry as an official specialty, any dentist can claim that they're a cosmetic dentist. This can make your search difficult, but not impossible. Keep these four tips in mind, and you should have no problem selecting the perfect cosmetic dentist for your unique smile!
1. Check Their Dental Memberships
Even though the ADA doesn't consider cosmetic dentistry a specialty, other dental organizations do. The most well-known of these is the American Academy of Cosmetic Dentistry (AACD). If a dentist is a member of the AACD, you can trust that they're committed to learning about enhancing patients' smiles. After all, this association works to provide dentists with educational opportunities for aesthetic treatments.
If you're interested in a particular dentist, check their bio page on their website. There, you can typically find out which dental organizations they're involved in.
2. Consider Their Payment Options
Cosmetic dentistry services usually aren't covered by dental insurance. You'll probably end up with higher out-of-pocket expenses for a veneer than you would for a filling or a crown, for example. So, you'll want to take a look at the dentist's financing options. See whether they take credit cards, offer payment plans, or work with a third-party financier like CareCredit.
3. Read Their Reviews
While word-of-mouth testimonials from friends and family members are a great place to start, you'll also want to look at online reviews for any dentist you're considering. Of course, not every single review will accurately reflect how your experience with that dentist would be. However, if you read all of the reviews that you can, it'll be easier to determine how patients generally feel about that dentist and what you can expect at your appointment.
4. Check Out Their Office
Some cosmetic dentistry treatments require several visits, so you'll naturally want to feel comfortable inside of the office. You can often get an idea of the office's environment by browsing photos online, but it also helps to schedule a trial visit in person. If the practice puts you at ease, you'll have a more positive experience as your smile is transformed.
You should only put your smile in the hands of someone you trust. Doing the research to find the perfect cosmetic dentist is a worthwhile investment of your time!
About the Author
As a cosmetic dentist in Arlington, TX, Dr. Stephen Wardlaw offers a variety of smile-transforming services at I-20 Family Dental. He is an active member of the AACD and has more than 20 years of experience in the field of dentistry. His practice accepts CareCredit financing to make affording treatment easier for patients, and his conveniently located dental office has a calming, welcoming feel. To find out whether Dr. Wardlaw is the perfect cosmetic dentist for you, you can contact I-20 Family Dental at (817) 572-5115.
Comments Off on 4 Tips for Selecting the Right Cosmetic Dentist
No Comments
No comments yet.
RSS feed for comments on this post.
Sorry, the comment form is closed at this time.