October 19, 2022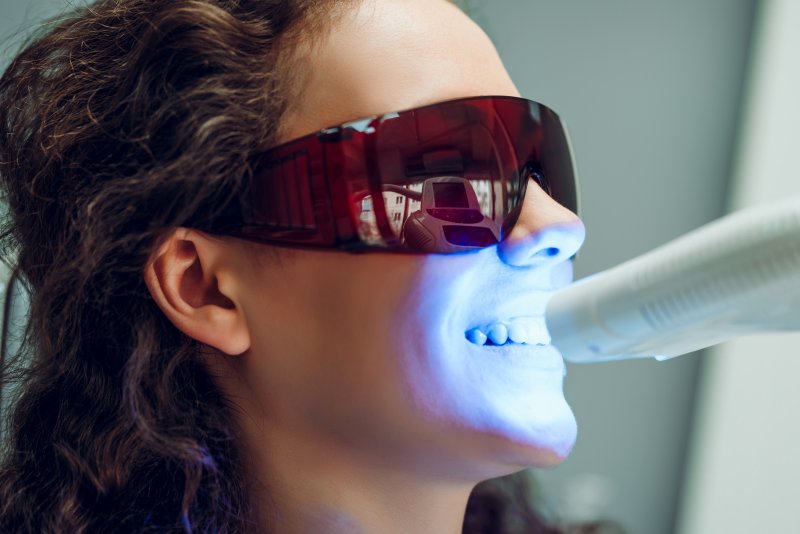 Having stained teeth can make it difficult to love your smile. Discoloration can make a once-gorgeous grin look dull and uneven. Fortunately, cosmetic dentistry offers solutions through treatments like teeth whitening and porcelain veneers. Though both of these are excellent treatment options, how can you know which one is the best choice for you? Read on to learn about these treatments so you can determine which one is better for your smile.
How Does Teeth Whitening Work?
For many, teeth whitening is the first treatment to come to mind when people think of how to achieve a whiter smile. Though there are a range of over-the-counter products available, professional whitening is the better option. Dentists have access to special tools and professional-grade whitening products that can't be purchased at your local grocery or drug store. This makes the treatments safer, more effective, and more reliable.
If-office whitening treatments can improve the look of your smile in just one visit. Over an hour, your dentist will apply a high-grade bleaching solution to your teeth. When used with a special light, this can improve the look of your smile by several shades. Additionally, at-home treatments are a great way to whiten your smile at home for 30 minutes per day over about a week or two.
How Porcelain Veneers Can Whiten Your Smile
Porcelain veneers are another popular way to whiten teeth. They are thin shells made from dental-grade porcelain that are color-matched to your beam. Your cosmetic dentist will remove a small amount of enamel from the teeth that will be receiving the veneers. This will help them better adhere to your teeth and will also prevent them from looking bulky.
Once the enamel has been removed, your dentist will take impressions of your teeth. these will be sent off to a dental lab so they can make your veneers. You will be fitted with temporary veneers in the meantime. These will protect your smile and prevent it from looking odd while you wait for your permanent ones. Your dentist will have you come back into their office once they get your permanent veneers from the lab so they can attach them.
Though both treatments whiten your teeth, whitening is the better choice for people who don't want to permanently alter their smile. Veneers may be best for those who can't whiten their teeth using traditional means. Speak with your dentist so they can help you make the best choice for your smile!
About the Practice
Dr. Stephen Wardlaw is the highly skilled, compassionate dentist who leads the team at I-20 Family Dental. Located in Arlington, they treat patients in the DFW area with a variety of effective treatments. If you are interested in improving the look of your smile, they offer a variety of cosmetic treatments, such as porcelain veneers and teeth whitening. Do you want more information on their services or to make an appointment with I-20 Family Dental? If so, you can visit their website or call their office at (817) 572-5115 to get started.
Comments Off on Teeth Whitening or Veneers: Which Is Right for You?
No Comments
No comments yet.
RSS feed for comments on this post.
Sorry, the comment form is closed at this time.