June 11, 2018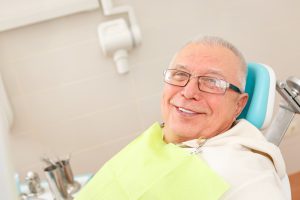 When your teeth are missing, life just isn't the same. Instead of being able to carry out the normal functions that your ivories are supposed to allow you to do, you're left to deal with having less confidence, giving up your favorite foods and struggling to pronounce certain words. Thankfully, your implant dentist in Arlington says this is not a final sentence; you can be fully restored. Learn how All-On-4 dentures can do the job as you read on.
What are All-On-4 Dentures?
The All-On-4 Dentures method allows you to enjoy the look of a fully restored smile, while providing you with a level of jawbone security that comes the closest to that of your natural teeth roots. This process differs from the traditional method of implant-retained dentures by limiting the number of posts that are needed.
Whereas the latter may require up to eight posts to restore a full arch, the All-On-4 procedure only requires four strategically placed implants. That means that your mouth has to undergo less trauma and you can heal more efficiently.
Other Benefits of the All-On-4 Dentures Method
Along with restoring your smile with less implants, there are other benefits of the All-On-4 procedure, which include:
The implants are slightly smaller than the traditional ones, which allows them to be set at an angle that maximizes their ability to seat well in your existing bone.
Because of the unique way that these implants are placed, it reduces the necessity for bone augmentation surgeries, which involves removing healthy bone from other parts of the body to build up the treatment area.
What Happens After the Procedure is Done?
Immediately after your implants are surgically inserted, your dentist in Arlington will place a temporary and removable set of dentures that will protect your gums while they heal. You can typically expect this part of the process to take between six and eight months to complete.
After a sufficient time of healing has passed, your dentist will use special software to map the outline of your gums in order to design your permanent dentures. When your prosthetics are ready, you'll go back into the office to have them securely fastened into place.
You'll leave smiling with confidence and able to return to living life to the fullest! To learn more about the procedure and to schedule a consultation, reach out to your local dentist today.
About the Author
For over a decade, Dr. Stephen Wardlow has been practicing dentistry. He earned his Doctor of Dental Surgery degree from the Baylor College of Dentistry and since then has been an advocate of excellent oral care for his patients. Additionally, Dr. Wardlow has been awarded the rank of fellow in the International College of Oral Implantologists and also maintains membership in several professional organizations. He practices at I-20 Family Dental and can be reached for more information through his website.
Comments Off on Your Implant Dentist in Arlington is All in for All-On-4 Dentures!
No Comments
No comments yet.
RSS feed for comments on this post.
Sorry, the comment form is closed at this time.